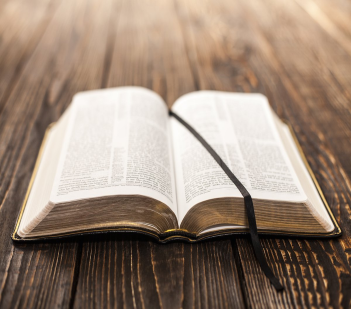 I'm a Christian guy and when it comes to my priorities, it's the utmost. For me, just to calm myself down, to keep my perspective when I'm playing, to not make too big a deal of it … that's where I go to. The peace that comes with that allows me to play free golf. When I met Kim in Florida 15 years ago, I switched from lapsed Catholic to enthusiastic member of her First Baptist Church before we got married in 2003. AS I was preparing and during the 2015 Open Championships, I was reading bits of scripture to myself, things like Psalm 24:7 (which reads, "Lift up your heads, you gates; be lifted up, you ancient doors, that the King of glory may come in"). I thank God for the talent he's given me, and I take it seriously.
When you're trying to accomplish lofty goals and when you're attacking something of great magnitude, you have to have help. I believe strongly that outside of my faith, my family is the key reason for my achievements on and off the golf course. I have a very close knit family. My father Dave (a practicing chiropractor) and mother Julie (Associate Director of Youth Evangelization at Archdiocese of Dubuque) raised me and my younger sister Maria and younger brother Gabriel in Cedar Rapids, IA. My wife Kim and I have three amazing children, my sons Will and Wyatt and daughter Abby Jane. Kim is my rock and the one that I go to first for anything. She's the one that I can trust with anything. She's very level-minded, always has great perspective, and she sits me in my place and keeps me properly focused and allows me to do what I do.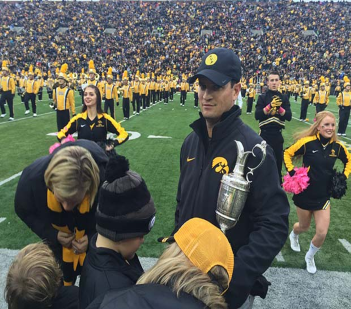 My love for the Hawkeyes and my alma mater the Drake Bulldogs, is well known. Growing up in Hawkeye country, I've always been a big fan of the Hawkeyes and have been going to games since I was a youngster. Whenever I am on the road, I try to catch all of the football games on TV or online. Recently, I was honored when Coach Kirk Ferentz asked me to be the honorary football captain for the Iowa-Maryland game at Kinnick stadium where I was humbled by the support I received from the Iowa fans. I try to come and cheer the team at least for one game a year if I can, but am always connected. Iowa football is a way for me to stay in touch with home.
On September 4, 2007, I led the singing of "Take Me Out to the Ballgame" during the 7th Inning Stretch of the Chicago Cubs baseball game at Wrigley Field.
My father Dave, late Payne Stewart, and Ben Hogan.
In my hometown of Cedar Rapids, Iowa, out by the airport, a billboard welcomes visitors with a picture of a fist-pumping Johnson. North of downtown, the road to Johnson's training ground Elmcrest Country club, is now named Zach Johnson Drive.
I'd like to high-tail it back to my hotel room if possible. But, if I can't do that, I'd sit and eat a lot, because I like to eat. Food's good.
Impossible for me to pick between the 2007 Masters and the 2015 Open Championship as my favorite victories, but the former was "shock and awe" and the latter was "just awe. I'm still in awe."